Grab some snacks
Cuz this is gonna be a long one. (that's what she said)
Last night was Sunday, August 3. We all know what that means.
Sigh. They are amazing. Absolutely amazing. Whatever they did in the month that they postponed the tour was worth the wait. They were TIGHT. They sounded amazing. Every song was perfect. Everyone wants to know the details, so I will do my best to oblige.
Now, when I said I had 5th row tickets, I wasn't kidding. I was on the side, but lucky for me, one of the stage extensions was right there in front of us.
Here's a few shots while they were setting up so you can see I'm not full of shit: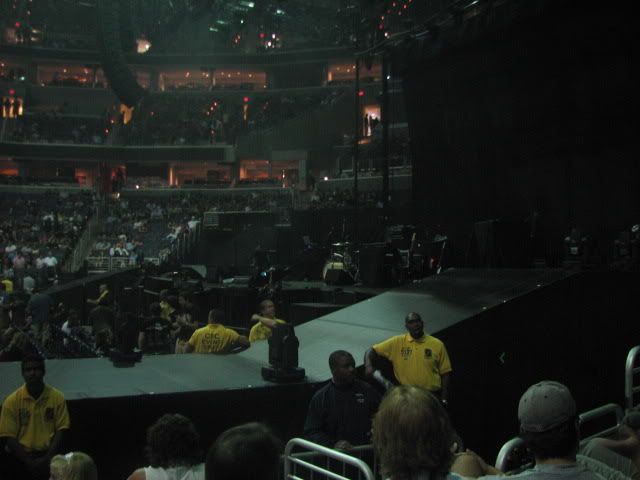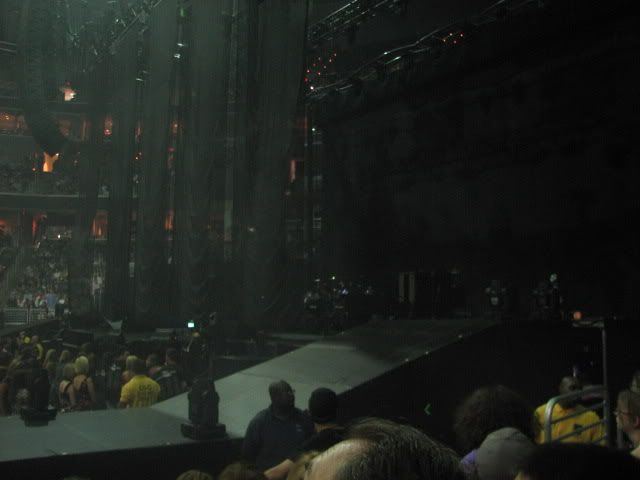 The lights went out, the screaming began, and Coldplay took the stage. They started with Life in Technicolour (the opening instrumental track from the new album). They played behind these black sheers, backlit with white light: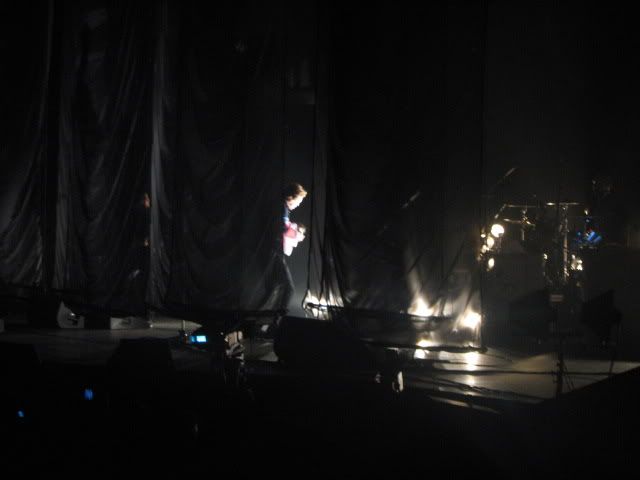 The sheers went up and revealed this backdrop, which I thought was pretty cool: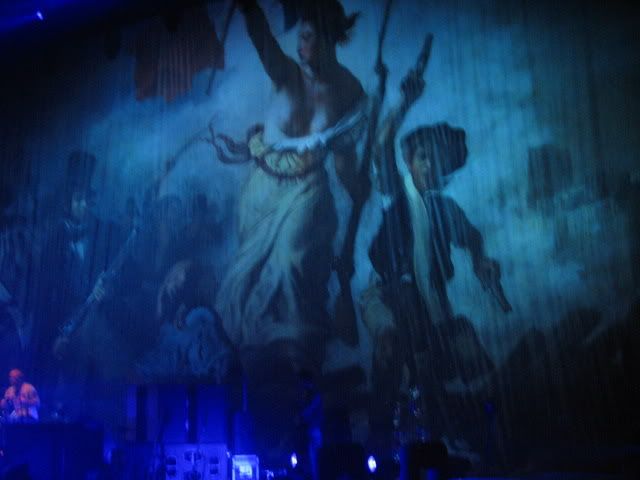 Then they went immediately into Violet Hill. I had predicted they would play that as the opening song and I was mostly right: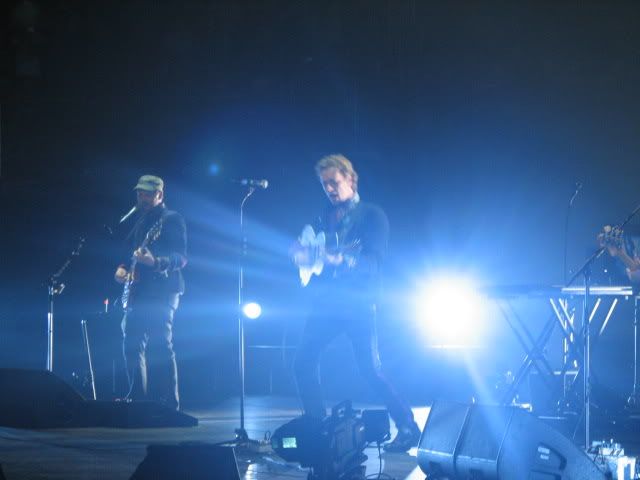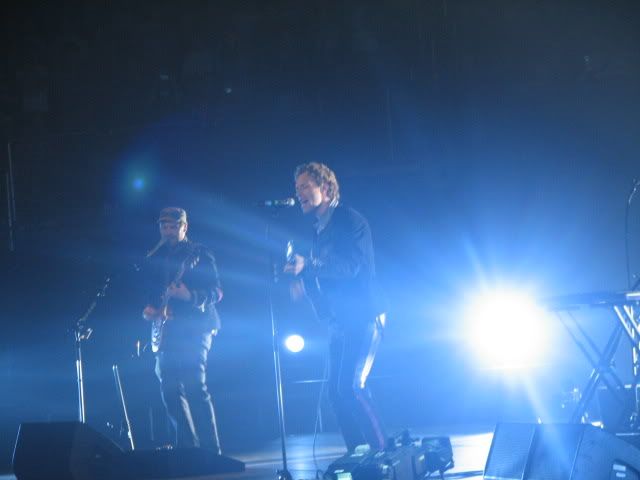 Chris accidentally wacked himself in the face with the microphone at the end, it was pretty funny.
A few 'thank yous' and they went right into Clocks: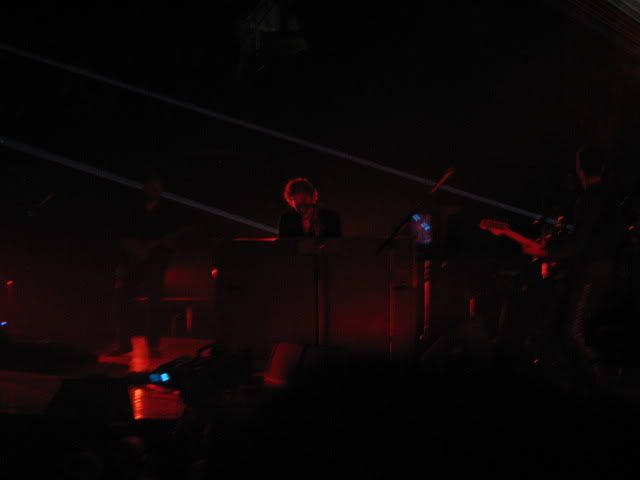 Really cool lasers during Clocks: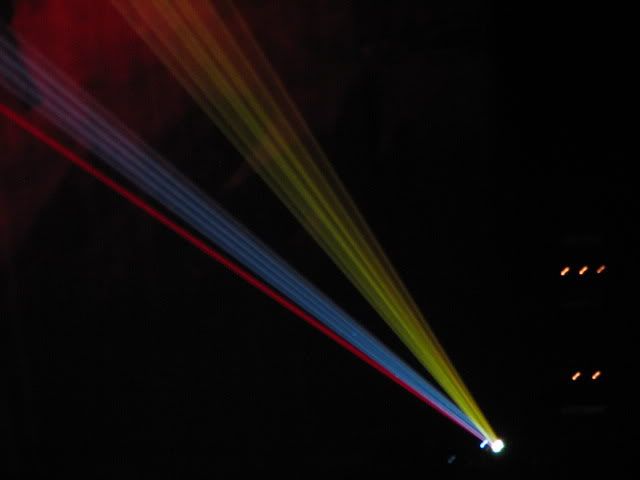 Now, there is no way I can remember the exact order of the songs, but I'm pretty sure they played In My Place after that. Being that it's my friend Nadine's favorite songs (and one of my favorites to see live), I videotaped the entire song so she could see it. I love how Chris plays to the crowd. He's all about the singalongs.
Every time during the chorus, the house lights came on and everyone in the crowd sang at top volume. It's incredible to hear an entire stadium of people singing in unison. I can't embed for some reason, but please check it out:
http://smg.photobucket.com/albums/v196/kellyr2/Cathyspics/?action=view&current=InMyPlace.flv
The song I was waiting for. Viva la Vida. Couldn't wait to hear the singalong, I knew it would be awesome. Unfortunately, my memory card filled up halfway through the song, but here's what I got:
http://smg.photobucket.com/albums/v196/kellyr2/Cathyspics/?action=view&current=VivaLaVida.flv
During the singalong, he came right up to our side of the stage. So close!!!!!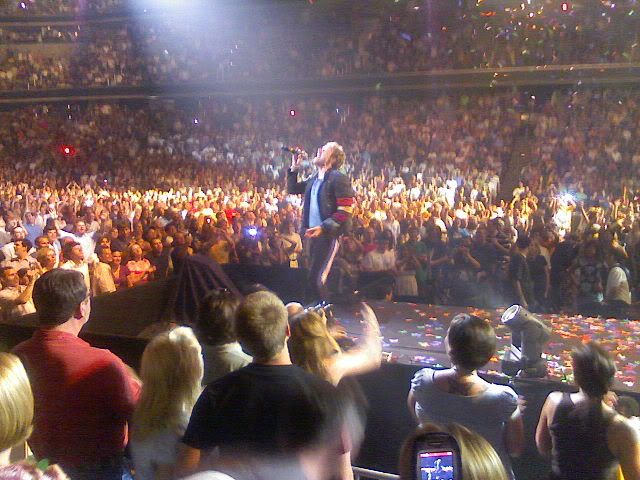 Some other songs they played:
Lost!
Yes (oh I was thrilled!!!)
Yellow (complete with yellow spot lights all around)
42
Strawberry Swing
Fix You (my favorite part was the very end. For the final, quiet chorus at the end, he turned his piano mic to the audience and walked away from the piano, allowing all of us to sing the end)
Lovers in Japan
The Hardest Part - now this one, I'm not 100% sure this is what he sang because I was frantically trying to delete pictures and open up more memory for more pics of the concert. Part way through the song (which was a slower version than the album) he stopped paying piano and said "ok that's enough of that" and moved on to another song :)
I watched with tremedous excitement as the band proceeded to walk down the stage extention to us, set up, and start to play RIGHT IN FRONT OF US. Literally: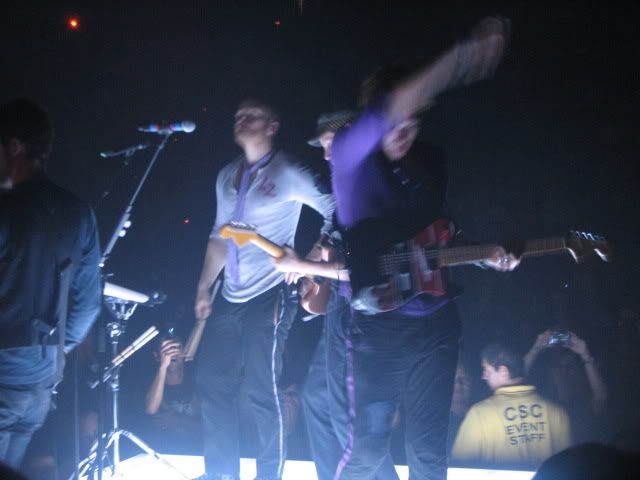 They played God Put A Smile On Your Face. The only problem, if you want to call it that, was they were a little left of me and facing the front, so I really could only see Chris's ass. Oh the horror. Hated every second of it. And since I hated it so much, I took a shitload of pictures.
Incidentally, these guys do NOT stand still!!!!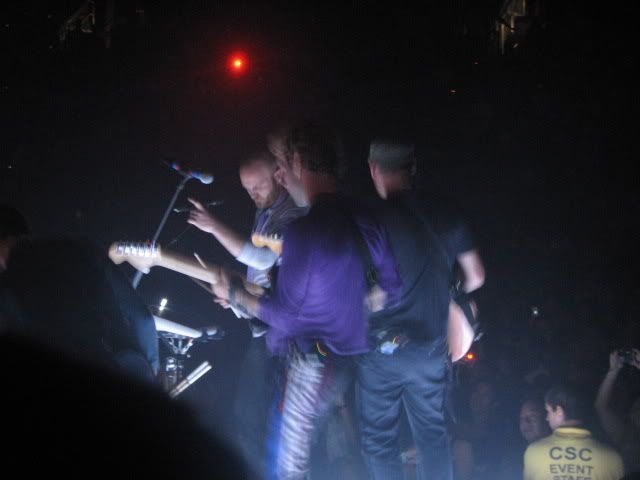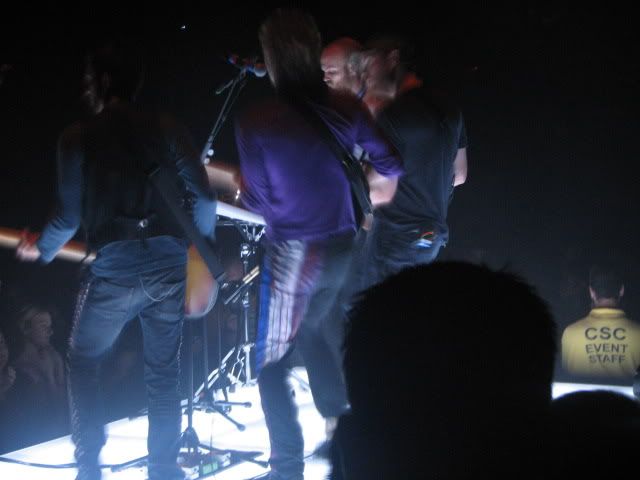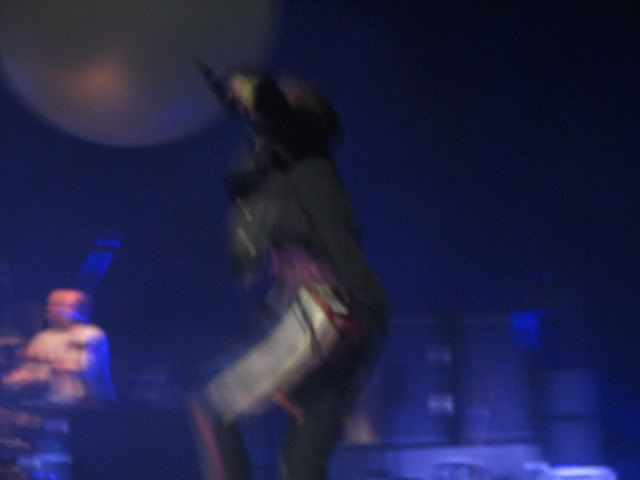 Another gratuitous ass shot from a later song: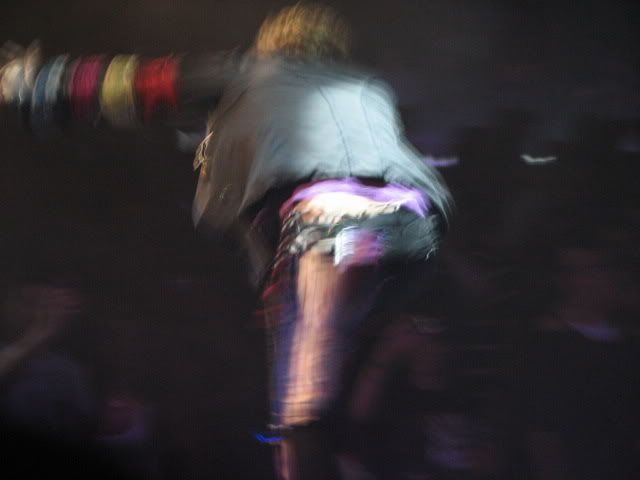 Random stage shot - no clue what song it was from: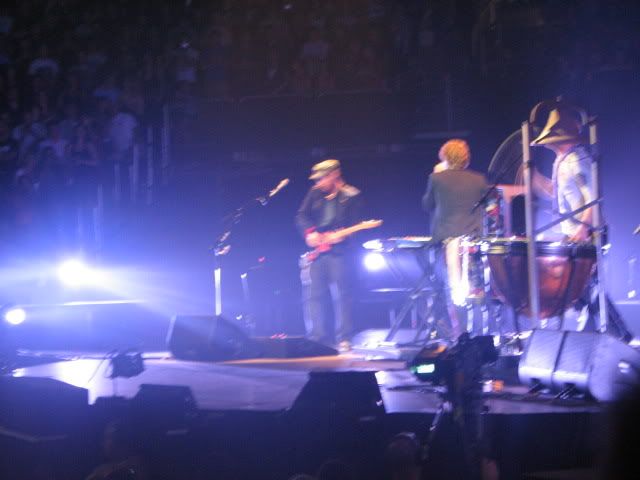 Near the end of the show, they ran out into the audience and out one of the back doors. Then they suddenly appears in one of the very back sections, standing in a row with fans and sang The Scientist. I thought that was SO cool - those people had shitty seats and ended up with the best seats in the house. They were no more than a foot away from the entire band. Here's a shot of how far away they were: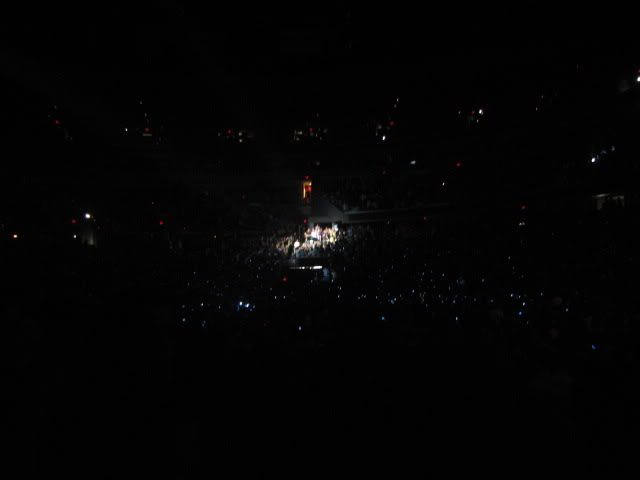 They had these giant globes that moved up and down during the show. Sometimes they had weird color patterns on them, which were beautiful: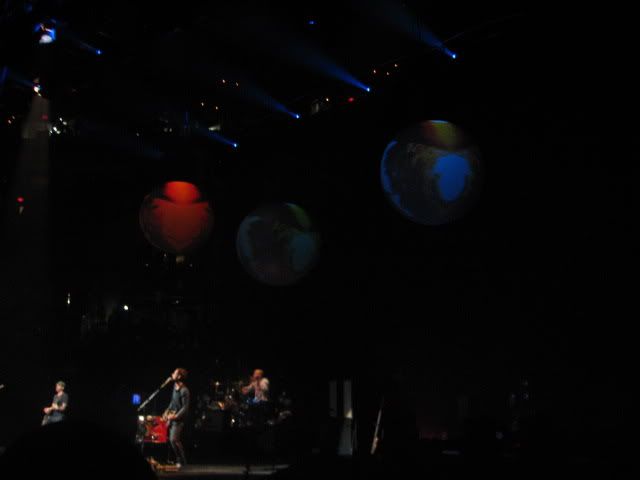 Other times, they had live-feed footage of the band and it was perfect video quality, so it was like having 6 round screens for everyone around to see the band close up. Very cool.
After they left for the encores (right after a short song sung by drummer Will Champion, which was performed in the back right after The Scientist), they showed a quick video on the globes of Bill O'Reilly calling Chris a 'pinhead' for making fun of Fox News in Violet Hill and then not coming on his show. It was hilarious. They used a remix of Talk and showed images of Karl Rove and Bush being stupid, it was great.
Then the encores started.
Politik. God damn that's a great song!!!
Square One - amazing.
The last song was Death and all of his Friends. During this song, they dropped thousands upon thousands of crepe paper butterflies. One dump, two dumps,then the final dump were florescent ones with a black light shining on them, I was awestruck: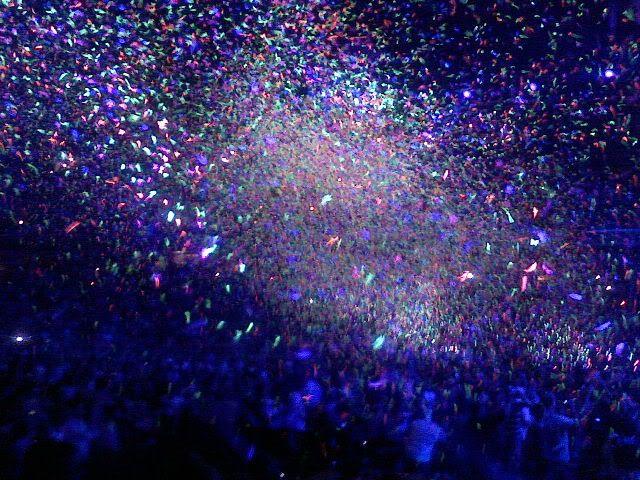 I have more shots on my cell phone, but for some reason, I couldn't get them to transfer to my computer. I'm working on it.
They said goodnight and walked to all corners of the stage, waving at everyone and saying "thank you" over and over again. One thing that really struck me was how honored they seemed to be that people like their music. They were very humble, and honestly seemed surprised that we were so excited to see them. They seemed just as thrilled to be there as we all were.
I'm sure I'm forgetting some details. Like at the end of Yellow when he totally screwed up the last chorus. He stopped and said "wow, I totally fucked that up" and started up again - halfway through singing, he'd interject "well, that's much better" "perfect" and stuff.
Also, he said, before Will sang his song "you may ask yourself why do all singers think they can play harmonica? I don't fucking know. I play for shit, but I'm still gonna do it." And he accompanied Will :)
Fantastic show. I'm really hoping they add another leg to the tour, like they did with the Twisted Logic Tour 3 years ago. I'm dying to see them again. It was totallly worth it going alone and having such great seats. The people around me were chatty, so it was really nice.
If you read this whole thing, I applaud you.
Now, I need some sleep!!